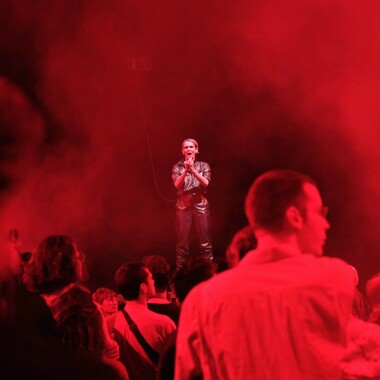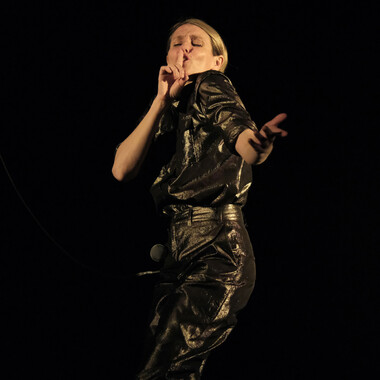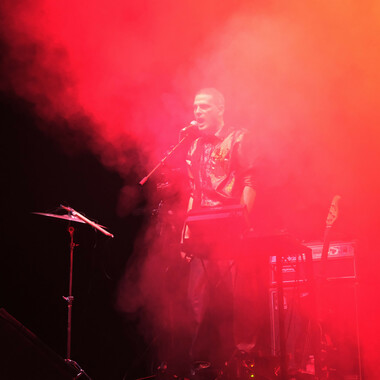 Jelena Jureša immerses us in the atmosphere of a nightclub in a region recovering from war. Suddenly one woman recognises the DJ as an unconvicted war criminal and challenges the collective silence that so often surrounds such crimes. APHASIA* is everything simultaneously: a high-energy concert, an archive film, a DJ set and a dance solo that is punctuated by the memories of the narrator who reflects about "the monsters and us." Together with the musicians Alen and Nenad Sinkauz and the dancer and actor Ivana Jozić, Jureša examines the terms of guilt and complicity through live experiments with the perspectives of the observers. What does it mean to be a witness? What responsibility does it bring? Jelena Jureša sketches images of war in our minds without ever presenting them on screen and analyses them in detail. Whispers, rumours of criminals, accomplices and violence – every revolution, every genocide has its own soundtrack.

Jelena Jureša is a visual artist and filmmaker, born in Yugoslavia who lives and works in Belgium. In her films, photography and video installations, Jureša explores issues of cultural identity, gender, the politics of remembering and forgetting, and collective violence. She unceasingly questions historical and political narratives and tries to destabilise our ideas of what is true. Her work has been exhibited internationally, including her latest solo exhibitions at Argos centre for audiovisual arts in Brussels, Künstlerhaus, Halle für Kunst & Medien in Graz, and Museum of Contemporary Art in Belgrade. Her latest film project APHASIA draws a thread of power, racism, injustice and violence from Belgian colonialism to Austrian anti-Semitism and the atrocities in Bosnia during the Yugoslav wars. It was produced by the Argos Centre for Audiovisual Arts, where it was also screened in 2019. Based on the previous research and continuing her collaboration with the performers of the film, Jureša conceived and directed the performance APHASIA, which premiered at the 2022 Kunstenfestivaldesarts in Brussels.
*The medical term Aphasia refers to an inability to speak or to find the right words.
---
Production credits
Concept, Direction Jelena Juresa Performers Ivana Jozic, Alen Sinkauz, Nenad Sinkauz Choreography Ivana Jozic, Quan Bui Ngoc Music Alen Sinkauz, Nenad Sinkauz Sound Design Hrvoje Pelicaric Text Asa Mendelsohn Based on a monologue by Barbara Matejcic Dramaturgical Advice Thomas Bellinck, Sara Oklobdzija Video Concept, Editing Jelena Juresa Visual Effects Dejan Solajic Set Design Stef Stessel Light Design Stef Stessel, Simon Neels Scientific Advice Christophe Busch Film Archive Royal Belgian Film Archive (CINEMATEK), Brussels; Filmarchiv Austria, Vienna; International Criminal Tribunal for the former Yugoslavia (ICTY), The Hague; Österreichische Mediathek, Vienna; ZDF archiv, Berlin Technical director Simon Neels Technical support Maxim Maes Programming Merel Vercoutere (Kaap) Projekt Coordinators Sandra Raes Oklobdžija (Robin), Rolf Quaghebeur (Kaap) Production Support Kaat Balfoort, Jachym Vandenabeele Translation Andreas Jandl Operator Yvonne Griesel Photos Jelena K Vorgucin
Production by KAAP in collaboration with ROBIN Coproduction Kunstenfestivaldesarts, De Singel, Workspacebrussels, Hannah Arendt Institute Developed in Co-laBo - La Geste. With the support of MOUSSEM, Nomadic Art Centre, Royal Academy of Fine Arts (KASK), School of Arts of University College Ghent. With support from the Vlaamse Overheid.