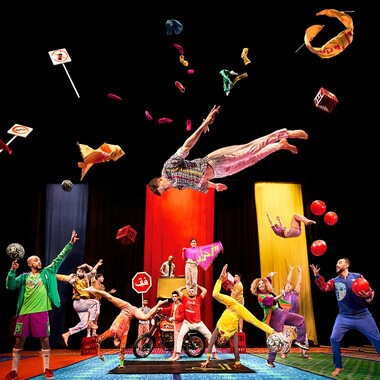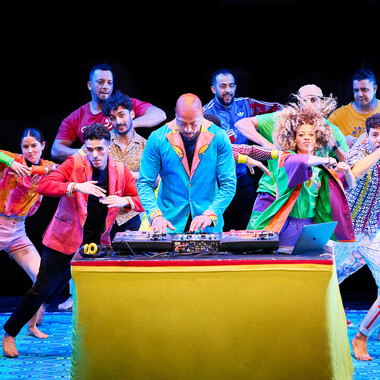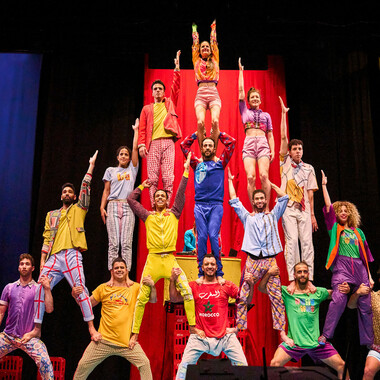 FIQ! (Wake Up!)
Groupe Acrobatique de Tanger & Maroussia Diaz Verbèke
Vivid colours, abundant energy and pure joie de vivre are what is experienced whenever the Groupe Acrobatique de Tanger takes to the stage. Fifteen young artists whose talents range from traditional acrobatics through dance and breakdancing to taekwondo and freestyle football set off a series of artistic fireworks in a joyous expression of Moroccan youth. To music by Algeria's top DJ DINO, they create a visual spectacle of dreams and ideas, acrobatic skills and breath-taking stunts, performance and political rebellion. On stage there are 100 cola crates, a motor cycle, a human trampoline and a lot of footballs. Welcome to the vibrant pop art world of contemporary artist Hassan Hajjaj, who links past and present. The Groupe Acrobatique de Tanger, led by director and acrobat Maroussia Diaz Verbèke present a high-energy evening for all the family.
Behind the the Groupe Acrobatique de Tanger is Sanae El Kamouni. In 2005, she put together a group of Moroccan acrobats for a new acrobatics project and asked director Aurélien Bory to create with her the first contemporary Moroccan acrobatics show in Tangier. The Groupe Acrobatique de Tanger puts its own culture at the centre of its project, a vivid and democratic culture that is accessible to all. Their stated goal is to question, preserve and enhance Moroccan acrobatics. In doing so, they create links between traditional art and contemporary creation.
Maroussia Diaz Verbèke is an all-round talent: a tightrope walker, director and circographer - a term she developed that defines circography as "staging of a circus act." In her performances, she combines the playful with the experimental as well as research with the spectacular.
Contemporary artist Hassan Hajjaj was born in Morocco and has moved to London at a young age. Today the artist lives and works in London and Marrakech. His art is heavily influenced by the city's club, hip-hop and reggae scenes, as well as his North African heritage. His works include portraits, installations, performance, fashion but also design objects, such as furniture made from recycled materials such as Coca-Cola crates and aluminum cans.
---
Production credits
Direction, Circography Maroussia Diaz Verbèke Performance Groupe Acrobatique de Tanger – Mohamed Takel, Samir Lâaroussi, Hamza Naceri, Hammad Benjkiri, Manon Rouillard, Youssef, El Machkouri, Ayoub Rouifi, Hassan Taher, Bouchra El Kayouri, Aboubakar Sidiki Hamidou, Zhor El Amine Demnati, Ilyas bouchtaoui, Achraf El Kati, Jemma Sneddon & Jean-Mario Milanese Live-Music DJ DINO Assistant Direction Sanae El Kamouni Akrobatische Beratung William Thomas / Cie BAM Carrier and banquine supervision Basile Narcy & Maxime Solé Scenography, Costume Design Hassan Hajjaj Flightconstruction Emma Assaud Costume Management Bouchra Salih & Emma Assaud Technical Direction, Sound Cécile Hérault Light and Sound Design Laure Andurand, Marine David Sound Joël Abriac, Tom d'Herin & Rémy Caillavet Stage Equipment Jordane Sabatier Original Music DJ Key Tour Management Sanae El Kamouni Production, Marketing, Development Jean-François Pyka Verwaltung, Entwicklung Aizeline Wille Logistik, Tour Management Romane Blandin & Noémie Charmet Photos Richard Haughton
A production by Association Halka (Paris). A Co-production with Association Scènes du Maroc (Tanger). Co-production and résidences by Les Nuits de Fourvière (Lyon), Le Manège – scène nationale de Reims, CIRCa – pôle National Cirque (Auch, Gers, Occitanie), La Plateforme 2 Pôles Cirque en Normandie (La Brèche à Cherbourg, CirqueThéâtre d'Elbeuf ), Agora PNC Boulazac – pôle National Cirque Boulazac Aquitaine, La Ferme du Buisson (Noisiel), Châteauvallon Liberté – scène nationale de Toulon, La Verrerie d'Alès – pôle National Cirque Occitanie, Théâtre de Grasse und Institut français (Paris). With the support of the Fondation BMCI (Marokko), Fondation BNP PARISBAS, Drosos Stiftung, Délégation provinciale de Tanger – Ministère de la Culture, L'Institut français de Marrakech – La Fondation Denise Masson, Awaln'art – Capitales afri caines de la culture, Mövenpick Hotel Mansour Eddahbi Marrakech & Palais des Congrès (Marrakesch), Le Théâtre Nomade (Casablanca). Halka Association is supported by Ministère de la Culture – DRAC Île-de-France, Ministère de la Culture – DGCA, l'Institut français (Paris), Région Île-de-
France, SPEDIDAM and Ville de Paris.