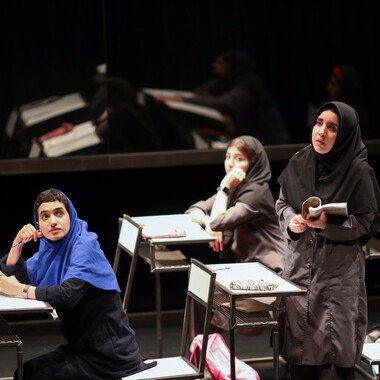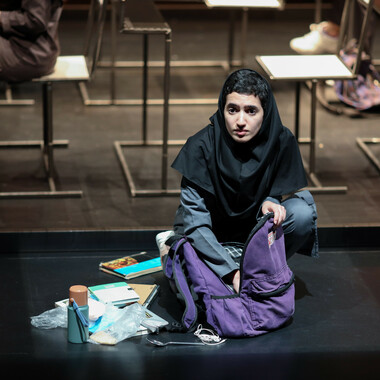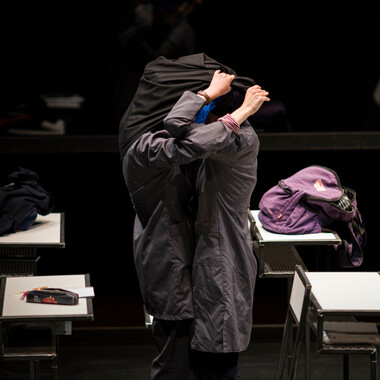 A classroom in a private girls' school in Tehran: 16-year-old Mahoor joins the class in the middle of the school year. After her parents split up, she moves from Rasht, a city in Northern Iran, to the capital Tehran. Mahoor immediately develops a close relationship with Parnia, who is top of the class. However, this relationship soon comes to the attention of the other pupils as well as the school authorities and becomes the source of numerous conflicts. The two girls react to this stress test in very different ways. Throughout the play, dialogues between the school authorities and the pupils remain unseen and are only apparent through the reactions and gestures of the pupils – who are the only characters with voices. However, the precise depiction of everyday school life and the nuances running though the girls' stories make the feeling of control tangible.
The production was developed by the writer, actor and director Parnia Shams along with six other theatre graduates from Sooreh University in Teheran, and is based on personal experiences. است (Persian for "is") is a haunting portrait of the omnipresent Iranian education system – and leaves the audience to interpret what is being said or cannot be said.

Parnia Shams studied theatre direction at Sooreh University in Tehran. As an actress, she appeared on stage of "Speak Medea" (2015), "The Beginning of a Symphony" (2016), and "Ghorb an Gaah" (2017). At the same time, she began writing and directing her own plays, first "Tatavor", for which she was awarded with several prizes. She wrote and directed است (Is) in 2018. The production was has won several prizes at the International University Festival Tehran 2019 and has since toured in Tehran and internationally.
---
Production credits
Direction Parnia Shams Text Parnia Shams, Amir Ebrahimzadeh Performance Parnia Shams, Parvaneh Zabeh, Yasaman Rasouli, Shadi Safshekan, Sadaf Maleki, Mahoor Mirzanezhad, Mahtab Karimi Dramaturgy Shabab Rahmani Scenography Pourya Akhavan Light Alireza Miranjom Costume Design Pegah Shams Assistant Direction Mahmood Khodaverdi Graphic Design Mohammad Mosavat Distribution NH Theatre Agency Photos Navid Fayaz
است (Is) by Parnia Shams is presented by FIND Festival International New Drama at Schaubühne Berlin, Festival Theaterformen in Hannover, the 22. Internationale Schillertage at Nationaltheater Mannheim and the Festival Theater der Welt 2023 in Frankfurt and Offenbach am Main.