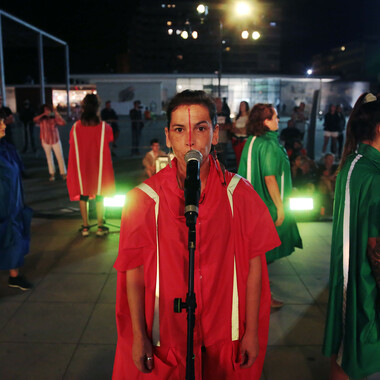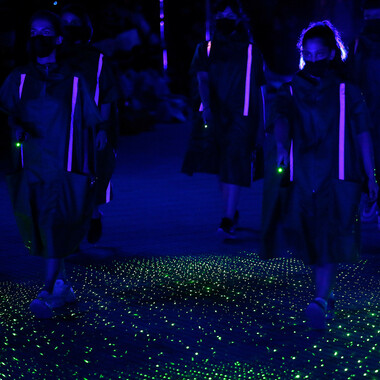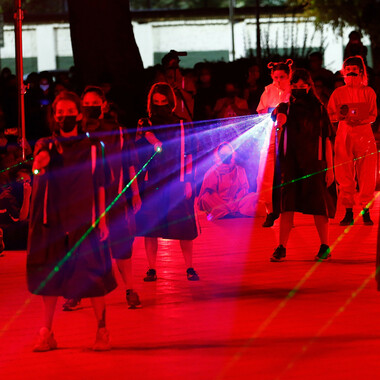 In the frame of the Festival Theaterformen, the Chilean collective LASTESIS invites 30 women and members of Hanover's LGBTQIA+ community to take part in a joint process of work leading to a performance. Sustained by the bodies and experiences of the participants, RESISTENCIA o la reivindicación de un derecho colectivo (RESISTANCE or the Demand for a Collective Right) puts the queer-feminist theories of Judith Butler, Paul B. Preciado and María Lugones into practice. Amid the conflicts between oppression and joy, death and celebration, accusations and resistance, the project seeks to defend the right to a life free of violence in a context of colonisation and exploitation.
With the 2019 performance Un violador en tu camino (A Rapist in Your Path) the feminist performance collective LASTESIS set a movement in motion that has extended far beyond Chile. Thousands of women and members of queer communities around the world have organised themselves and taken the choreography that called for resistance to sexualized violence onto the streets of their cities.
*LGBTQIA+ means Lesbian, Gay, Bisexual, Transgender, Queer, Intersex, Asexual and additional spectrums of gender and sexuality.
---
Production credits
Performance Sibila Sotomayor, Daffne Valdés, Paula Cometa (Colectivo LASTESIS) Photo (1) BoCa - Biennial of Contemporary Arts Photo (2), Photo (3) Aton Fundación Teatro a Mil
A Co-production by Fundación Teatro a Mil, Parque Cultural de Valparaíso Ex Cárcel and Hebbel am Ufer.