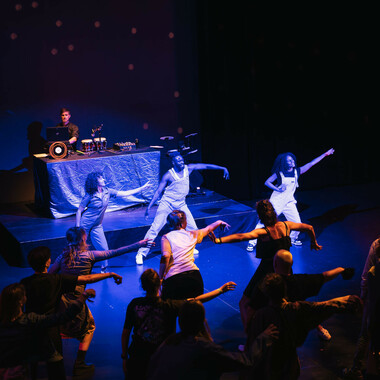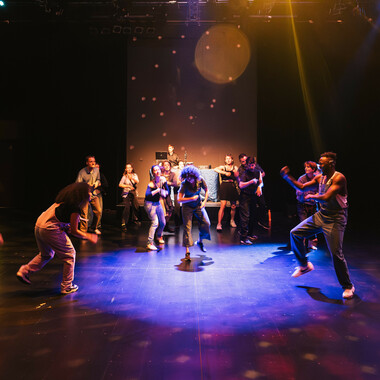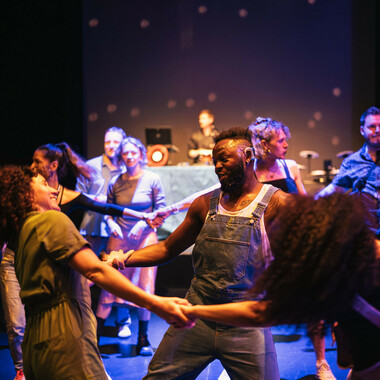 SPIN transforms the Cumberland stage into a dance rave. Here the performers and audience experience together a playful, intimate and reflective dance. Inspired by club and social dance scenes in San Francisco, Mexico, Cuba and Berlin, SPIN celebrates collectivity, ritual, hedonism. It challenges assumptions that a dance rave is a space where Deaf people do not belong and instead interrogates how we coexist in the 'dance rave' realm.
The three Deaf hosts Anna Seymour, Chris Fonseca, and Raffie Julien as well as a DJ invite you to join them for this guided dance event. No dance experience is necessary and all are welcome. SPIN gives a space to explore yourself and others through movement and non-verbal interaction, and shifting preconceptions about Deaf people in relation to dance and music. It is celebration of Deaf culture, identity and belonging.

Anna Seymour is an Australian-born dance artist and performer based in London. Born profoundly Deaf to a hearing family, Anna started dancing at the age of 6 years old. She moved to Melbourne to study dance. There, she worked as a freelance dancer, choreographer, teacher, consultant, and producer. She is currently a dancer with Candoco Dance Company, an international dance troupe of disabled and non-disabled dancers in England and Wales.
This event is part of A Sign For The Future. You can find more information here.
Rita Mazza shares insights about SPIN in DGS.
---
Production credits
Direction, Choreography, Production, Performance Anna Seymour in collaboration with performers Hosts Anna Seymour, Chris Fonseca, Raffie Julien DJ Snataka Interaction Consultant Bec Reid BSL Interpreters Louise Mitcham, Sandy Deo Sound Design Russell Goldsmith Original Light Design Bronwyn Pringle Production Design Rhian Hinkley Video Jessica Barclay-Lawton, Ela Orleans Photos Moritz Küstner