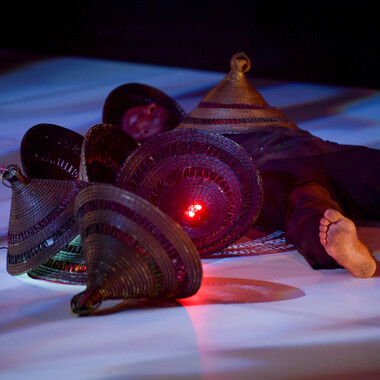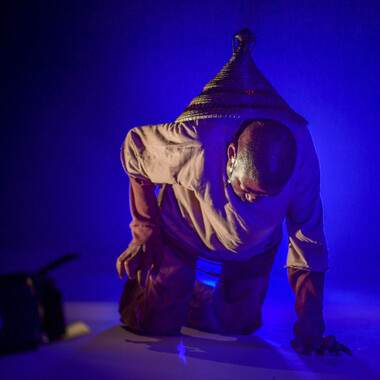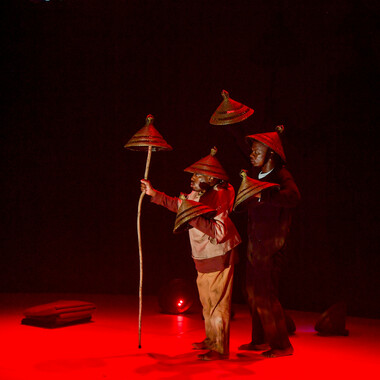 In A Hole in Waiting, the director and performer Calvin Ratladi takes us underground into the dark world of the mining industry of post-colonial South Africa. We are reminded of the graves of the thousands of people who died due to the aggressive exploitation of mineral deposits and Black bodies during the breakdown of the apartheid regime, which the mining industry heavily financed. Miners are still dying today due to mining accidents, or they die in strikes against poor working conditions. The theater director and actor Calvin Ratladi comes from a family that has been working in the mines for generations. He is the first to have taken a different path. A Hole in Waiting is about the miners and the stories that are inscribed in their bodies. It pays respect to those who are trapped in this inhospitable world of a cruel past. In the form of a theatrical excavation, Ratladi exposes the system of exploitation while attempting to negotiate between the human body and the Earth through rituals and soundscapes.
Ratladi works as a freelance producer, director, and actor for the Calvin Ratladi Foundation, the South African Theatre Village, William Kentridge's Centre for the Less Good Idea, among other institutions. His works focus on issues of identity, body politics, and the rights of people with disabilities. He received the first residency for creative exchange from the Centre for the Less Good Idea in Johannesburg and the Teatre Lliure in Barcelona for 2021.

Leaflet A Hole in Waiting
---
Production credits
With Calvin Ratladi, Xolisile Bongwana Idea, Direction Calvin Ratladi Sonic composition Xolisile Bongwana Lighting design Mandla Mtshali Stage management Dimakatso Motholo Set and costume design Nthabiseng Malaka Photos Andreas Greiner-Napp

Produced in collaboration with The Centre for the Less Good Idea
This project has been given a "Ajuts a la Creació Carlota Soldevila " Grant by Teatre Lliure, Barcelona.