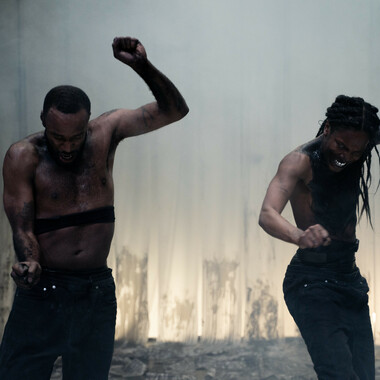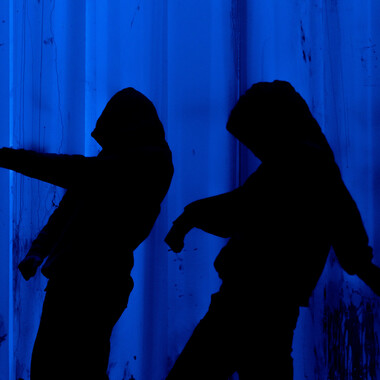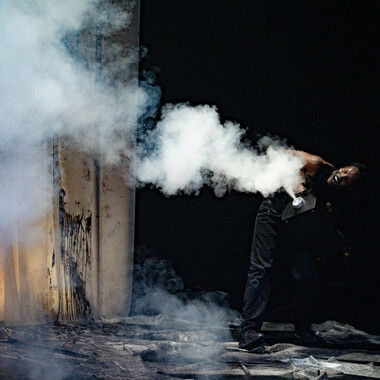 In her new creation, Cherish Menzo and her onstage partner Camilo Mejía Cortés look for ways to detach their bodies from the way they are perceived and the daily reality in which they move. Among other things, they look up to the sky, at dark matter and at black holes that meet and collide to give birth to a new, (afro)futuristic and enigmatic body.
DARKMATTER wants to get rid of the biased way of looking at one's own body, at that of the other, and at the stories we attribute to them. Together, they throw their bodies into a complex conversation that they want to both enter into and transcend – a duality that feeds the performance.
Just as in her previous project, JEZEBEL, Menzo stretches her movement language further by integrating techniques from hip-hop music. She applies the Chopped and Screwed method to her movement language, a process in which the music's tempo is sharply reduced. By stretching the notions of time, the register changes and the performing body manages to generate new readings. A choir, the Distorted Rap Choir, is supplemented by local voices from the respective venues and accompanies the two performers on their journey through space and time. DARKMATTER wants to bring about a thorough reshuffle of the atoms, looking for a new form for – and way of looking at – the (black) body and the complex outside world to which it relates.
---
Production credits
Concept, Choreography Cherish Menzo Creation, Performance Camilo Mejía Cortés, Cherish Menzo Lighting Design Niels Runderkamp Music Composition Gagi Petrovic, Michael Nunes Mastering Gagi Petrovic, Michael Nunes Costume Design JustTatty.com Scenography Morgana Machado Marques Dramaturgy Renée Copraij Singing, Vocal Coaches Daniël Bonsu, Shari Kok-Sey-Tjong Artistic Advice Benjamin Kahn, Christian Yav, Nicole Geertruida Photos Bas de Brouwer

Production Pauline Van Nuffel, GRIP, Frascati Producties Coproduction Kunstenfestivaldesarts (Brussels, BE), CCN-Ballet national de Marseille dans le cadre de l'accueil studio / Ministère 7 de la Culture (FR), actoral festival (Marseille, FR), STUK (Leuven, BE), La Villette (Paris, FR), Festival d'Automne à Paris (FR), Beursschouwburg (Brussels, BE), Perpodium (BE) Residencies STUK (Leuven, BE), La Villette (Paris, FR), Frascati (Amsterdam, NL), Beursschouwburg (Brussels, BE) In collaboration with Trill (Leuven, BE), WijzijnDOX (Utrecht, NL), De Coproducers (NL) With the financial support of the Flemish Government, The Performing Arts Fund NL, Tax Shelter of the Belgian Federal Government and Cronos Invest