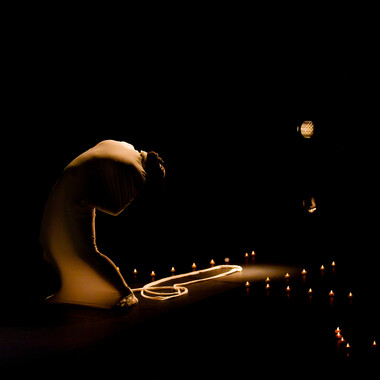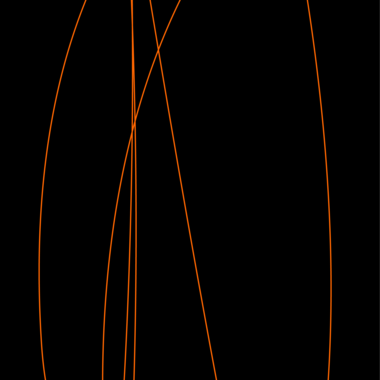 Esprit bavard // ⵣ YAZ[Z] (RHYMES)
Bibata Ibrahim Maiga // Fouad Nafili
Bibata Ibrahim Maiga and Fouad Nafili, who can also be seen as dancers in Taoufiq Izeddiou's SAWTIK, will present the first dance pieces they have choreographed themselves in a double bill: Esprit bavard and ⵣ YAZ[Z] (RHYMES).
Esprit bavard
Who am I? Who am I supposed to be, and who do I want to be? Esprit bavard is a revolt: a dark fight against your own self, which lies hidden somewhere beyond the visible. This first solo dance she choreographed herself shows Maiga poetically working through society's expectations in Mali, as well as the physical and mental injuries that occur as a result. In her search for freedom and personal integrity, she chooses a path that enables her to follow her heart and put up resistance. Her impressive language of movements allows her to play with the attention and patience of the audience.
The choreographer, dancer, and performer Bibata Ibrahim Maiga won the Golden Acogny in 2021 for Esprit bavard in the emerging artist category at the international choreography competition Africa Simply the Best. She completed her training as a dancer and choreographer at the Ècole des Sables in Dakar in 2017 and has been working as a dancer in the Faso Danse Théâtre Company of Serge Aimé Coulibaly since 2019. Maiga has also developed her own choreographies. As a founder of the non-profit association I Dance'O Association and the B-Z'Art move center, she has been organizing dance classes for children and teenagers in Bamako and in Gao in northern Mali since 2018.

Leaflet Esprit bavard
ⵣ YAZ[Z] (RHYMES)
What characterizes our relationship to the land? In his search for answers to this question, the Moroccan choreographer Fouad Nafili drew his inspiration from the Imazighen, Indigenous people of Northern Africa, whose poetry is characterized by a close connection to the Earth. In his attempts to balance the different elements of objects, spaces, and bodies, he uses his ability as a break-dancer. In this poetic performance, Nafili's body is transformed into part of the landscape, while rocks become his companions.
Dancer, choreographer and performance artist Fouad Nafili began his dance career with B-boying (breakdancing). He then attended the Conservatory of Music and Choreography in Salé before continuing his studies with the company Anania Danses in Marrakech. In 2016, he participated in the P.A.R.T.S. training cycle and in 2019 in the STUDIOS program. He has participated in numerous productions and residencies in Morocco, Europe and the Middle East and has worked with Michel Hallet Eghayan, Taoufiq Izzediou, Isabella Soupart, Faouzi Bensaïdi, Anne Teresa de Keersmaeker, Chokri Ben Chikha, Fanny Brouyaux, Bouziane Bouteldga, Radouan Mriziga and Boris Charmatz, among others.
---
Production credits
Esprit bavard
Idea, Performance Bibata Ibrahim Maiga Partner Complexe Culturel BlonBa, Institut français de Paris, Les Bancs Publics Photo Andreas Greiner-Napp
ⵣ YAZ[Z] (RHYMES)
Concept, Performance Fouad Nafili Mentoring Radouan Mriziga Production P.A.R.T.S. (as part of the STUDIOS master's program), De School van Gaasbeek, STUK - House for Dance, Image & Sound, Zaman Photo Andreas Greiner-Napp