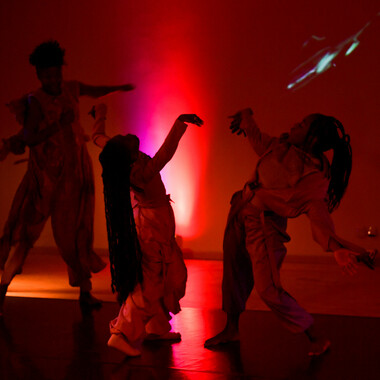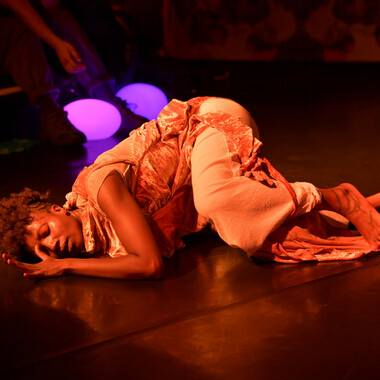 Fountain (:) Live
Alexandrina Hemsley / Yewande 103
Dance Performance
Fountain (:) Live is the premiere of Alexandrina Hemsley's screen dance Fountain. Fountain is a screendance evoking water as both metaphor and inevitable occurrence, to explore tidal cycles of repair, loss, joy and intimacy. Fountain situates itself amidst the colliding range and scale of experiences within Black subjectivities that water evokes: from the play of running through fountains in the summer, to the significance of oceanic passages and the impact of colonial carving up of water.
---
Production credits
Fountain (:) Live
Creative Direction, Choreography, Concept Alexandrina Hemsley Executive Production Nancy May Roberts Rehearsal Director Nathália Mello Sound Design David Archer, João Caetano Costume Design Abiola Onabule Spatial Design Yewande 103 Lighting TBC Technical Support TBC Projection Visuals Jack Barraclough, Alexandrina Hemsley
Photos Andreas Greiner-Napp
Fountain
Film Credits
Concept, Creative Direction, Choreography Alexandrina Hemsley Executive Producer Nancy May Roberts Rehearsal Director Nathália Mello Dance Artists Shahada Nantaba, Rudzani Moleya, Rickay Hewitt-Martin Director of Photography Ngozi Ugochukwu Editor Katarzyna Perlak Visual Effects, Editing, Colour Grading Jack Barraclough Costume Design Abiola Onabule Audio Description Louise Dickson Lighting Director Caterina Castro Frigerio Camera 1 Jack Barraclough Camera 2 Rhiana Bonterre Original Soundtrack Dave Archer, João Caetano Music Production João Caetano, Dave Archer Editor João Caetano Mixing, Mastering João Caetano All songs performed by Dave Archer, João Caetano Vocal Improvisations Jalen N'Gonda Sound Effects zapsplat.com
Recorded at Macau Records Studios, London
Commissioned by The Lowry
Additional commissioning support from Cambridge Junction and The Place
Supported by Wainsate Dance Residency, 2021
Supported using public funding by the National Lottery through Arts Council England
© 2022 Yewande 103 Limited. All rights reserved.