GRANMA. TROMBONES FROM HAVANA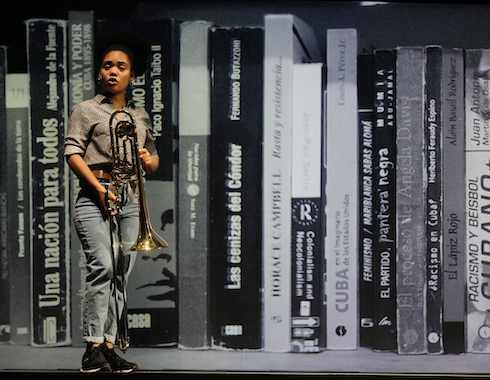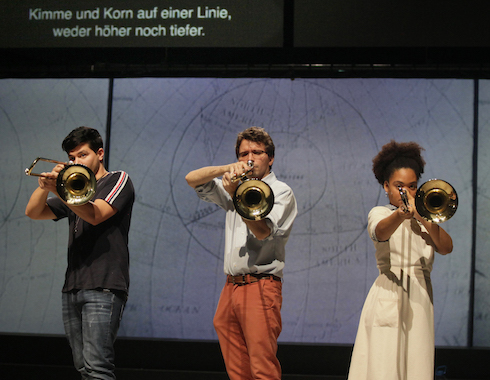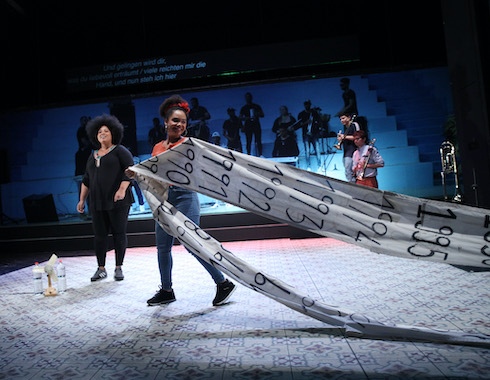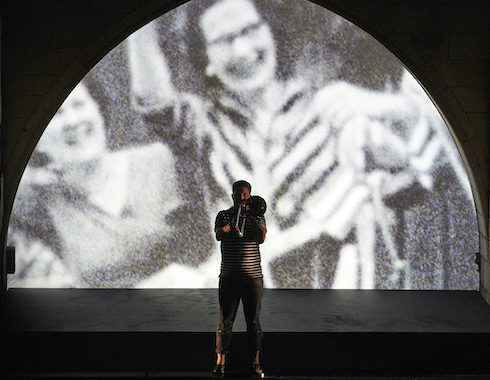 ---
Rimini Protokoll . Berlin . Germany
---
A journey through time to the start of the revolution and back

Sixty years after the victory of Fidel Castro's guerrillas on the largest island of the Caribbean, four young Cubans go on an investigation that leads them to their grandparents' stories. On stage: Daniel, the grandson of Faustino Pérez, the first Minister for Redistribution, a close confidant of Castro's and a member of the guerrilla troop on board the Granma, the legendary motor yacht that brought the revolutionaries from Mexico to Cuba in 1956. The software programmer Christian also goes in search of the story of his grandfather, who took part in Cuban military operations in the civil war in Angola as a fighter pilot. And the history student, Milagro, granddaughter of Nidia, a seamstress who called Castro "Papa Fidel", investigates how the effects of the revolution and its relationship to her grandmother can still be felt today. Together with a trombone player, Diana, whose grandfather started the "Orquesta Maravillas de Florida", they interweave their family histories with current questions about a rapidly changing Cuba. And playing their trombones becomes a revolutionary practice: learning something together that didn't seem possible before.

For the festival's special edition A Sea Of Islands, Rimini Protokoll have prepared a small parcel for the audience – with stories, pictures and letters from the Cuban cast.

Please register with your complete postal address at granma@theaterformen.de

We use your data (postal and e-mail address) exclusively to fulfill and process your pre-order.

Registration and allocation of the limited edition following the First-come-first-served principle. One-time Shipping between 2 and 12 july.

Online conversation The One Thing That Helped
With Stefan Kaegi (Rimini Protokoll) and Martine Dennewald
TUE 07.07. 07.30 PM
We are using the video platform Zoom for the discussions. If you would like to participate, please email us on talks@theaterformen.de You will then be given access to the individual events.

With Milagro Álvarez Leliebre . Daniel Cruces-Pérez . Christian Paneque Moreda . Diana Sainz Mena Concept . Direction Stefan Kaegi Stage Design Aljoscha Begrich Video Mikko Gaestel . Stefan Korsinsky (on tour) Composition Ari Benjamin Meyers Sound Tito Toblerone . Aaron Ghantus Dramaturgy Aljoscha Begrich . Yohayna Hernández Costumes Julia Casabona Conductor . Light Sven Nichterlein Head of Production Maitén Arns Support Video Marta María Borrás Support Dramaturgy Ricardo Sarmiento Assistance Direction Noemi Berkowitz Assistance Stage Design Julia Casabona Assistance Production Federico Schwindt . Dianelis Diéguez Surtitle Meret Kündig . Federico Schwindt (on tour) Surtitle PwHI Inga Laas Translation Meret Kündig . Franziska Muche . Anna Galt . Vivian Ia . Marta Vukovic . Adrien Leroux (Panthea) Production Rimini Apparat . Maxim Gorki Theater Berlin Coproduction Emilia Romagna Teatro Fondazione . Festival TransAmériques (Montréal) . Kaserne Basel . Onassis Cultural Centre – Athens . Théâtre Vidy-Lausanne LuganoScena-LAC . Zürcher Theater Spektakel . Festival d'Avignon Funded by Kulturstiftung des Bundes Pro Helvetia . Senatsverwaltung für Kultur und Europa

In Cooperation with Goethe-Institut Havanna

Supported by NATIONALE PERFORMANCE NETZ Gastspielförderung Theater, Beauftragten der Bundesregierung für Kultur und Medien, sowie den Kultur- und Kunstministerien der Länder
---
Letterbox 1
---
02.07. - 12.07. 0:00 - 0:00 Uhr

---
Admission
free
Duration
individual
Language
English, German, Spanish
---
Please register with your complete postal address at granma@theaterformen.de
Hier geht es zum Online-Beitrag