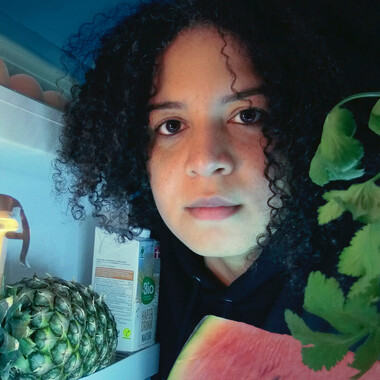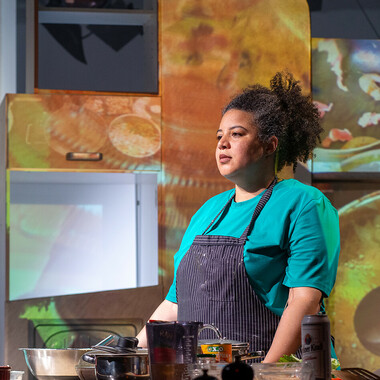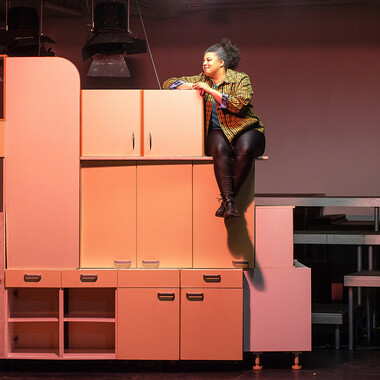 The Latest from the Diasporic Kitchen
Simone Dede Ayivi and her accomplices are firing up their ovens. They've come together to cook, having gathered recipes, shopping lists, entire cuisines – and, indeed, kitchens. And all of this along with the accompanying stories about family relationships and processes of separation, culinary assimilation pressure, fake fufu, the hummus paradox and kofta exoticism. They are taking a stand against the German aversion to caraway and garlic, hacking the potato system and opening up a few storage jars. They present hard-to-digest issues as light fare and lift the lids on each other's lives and histories. Together they are writing the theatrical cookbook of their culinary migration heritage and asking: what will we be cooking tomorrow?
In "Home Cooking", Simone Dede Ayivi stands as a performer in the kitchens on the stage. People from the most diverse communities, generations and places share their stories and recipes in video and audio plays.
Simone Dede Ayivi makes political struggles and emancipatory movements, Black history and present visible in her theatrical works. Her play "First Black Woman in Space" has been performed nearly 30 times, her "SOLIDARITÄTSSTÜCK" (SOLIDARITY PLAY) was shortlisted in 2020 for the Stückemarkt as part of the Berliner Theatertreffen, and "The Kids Are Alright" has been invited to the Impulse Festival 2021. Ayivi regularly presents her plays at the Pavillon Hannover, where she has run the theatre talk show "Planet X" for three years.
---
Production credits
Concept and performance: Simone Dede Ayivi / Set design, costume: Charlotte Pistorius / Video: Jones Seitz / Dramaturgy: Bahar Meriç / Sound design, music: Johannes Birlinger / Lighting: Susana Alonso / Production assistant: Selma Böhmelmann / Set design assistant: Yasmin Alt / Production management: ehrliche Arbeit – Freies Kulturbüro / Technical production: Gefährliche Arbeit / Publicity photos: Kornelia Kugler / Press photos: Renata Chueire / Cooks: Atiye Altül, Jeff Hollweg, Dan Thy Nguyen, Nadia Shehadeh und Efia / Translation: Anna Galt / Surtitles: Yvonne Griesel
Co-production: SOPHIENSÆLE, Festival Theaterformen / Funded by a basic subsidy from the Senatsverwaltung für Kultur und Europa, the HannoverStiftung and by the Fonds Darstellende Künste through funds from the Federal Commission for Culture and Media. Supported by the NATIONALES PERFORMANCE NETZ Guest Performance Fund for Theatre, which is funded by the Federal Government Commissioner for Culture and the Media.