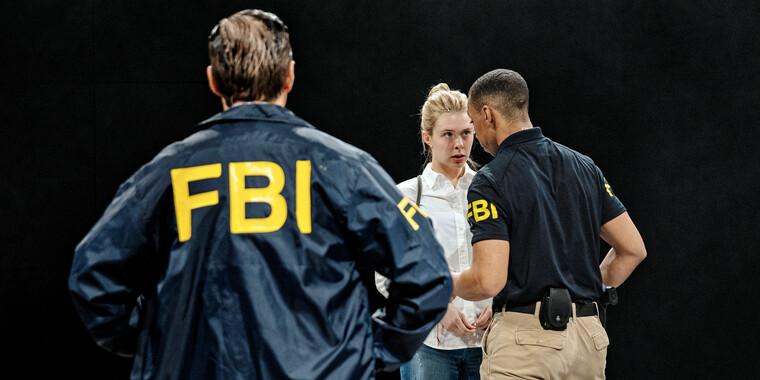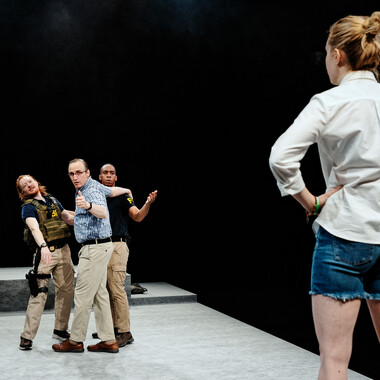 Is This A Room: Reality Winner Verbatim Transcription
Tina Satter / Half Straddle
The 25-year-old Air Force linguist Reality Winner was surprised in her home by the FBI in June 2017. She was interrogated and accused of having leaked evidence of Russian interference in the American presidential election of 2016. Winner was then sentenced to more than five years in prison. Tina Satter used the exact wording of the official FBI transcript for her Broadway play Is This A Room in which she creates a suspenseful thriller grounded in real life that revolves around language, power, and patriotism.
The language of the interrogation transcription is almost theatrical, the tension outright palpable. In a confined, chamber-drama-like environment, the actors reproduce the original dialogue with every pause and idiosyncrasy, letting every cough and stutter feel like a pin being dropped. Precise and concentrated, this conversation reveals a complex game of power involving institutions, honor, and gender. The disturbing insight into the practices of US security services clearly belongs in the context of the Donald Trump era, with references to political polarization, Fox News, corruption, and anger. Yet it is the many blacked-out passages in the text that make the situation seem all the more threatening.
Half Straddle is an ensemble of performers and designers from New York City led by the writer and director Tina Satter. They produce plays, performances, videos, and music that can be seen and heard in the US and abroad. Is This A Room premiered at the Off Broadway theater The Kitchen in 2019 with rave reviews, and the Lyceum Theatre on Broadway included it in its program in 2021.
---
Production credits
Concept, Direction Tina Satter With Katherine Romans, Will Cobbs, Becca Blackwell, Dick Toth Set Designer Parker Lutz Costume Designer Enver Chakartash Score Sanae Yamada Lighting Designer Thomas Dunn Sculptural Designer Amanda Villalobos Production and Stage Manager Randi Rivera Company Manager KC Athol Technical Director Jørgen Skjaervold Photos Schaubühne / Gianmarco Bresadola