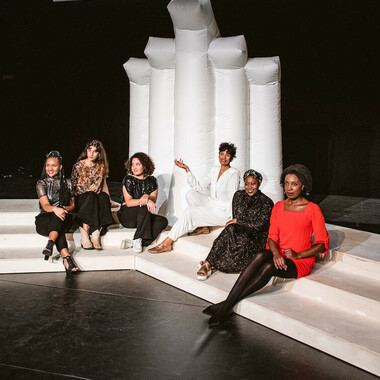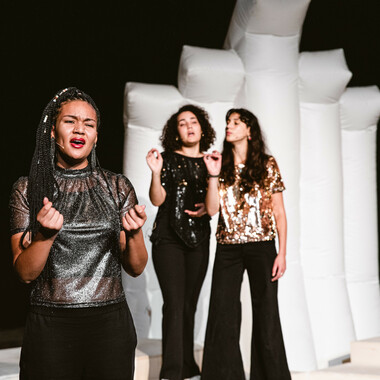 A show about prejudices you never even knew you had. Everyone's a winner! In one way or another.
The killjoy in Luanda Casella's live television show, which includes a TV band, is, in fact, the quiz master, whose clever multiple-choice questions mercilessly expose an array of prejudices. The superficial fun of a television show soon gives way to an intellectual game, a more rigorous but also more productive exercise that provokes discussion and moves beyond mere facts. For one thing is clear: the short a, b or c answers suitable for a quiz can hardly do justice to a complex world. The goal is not the points but the dialogue, for words are a valuable asset and rhetoric is a weapon.
"Killjoy Quiz" is inspired by Sara Ahmed's "Killjoy Manifest" and her character of the feminist killjoy who denounces the violent nature of ideologies by exposing the manipulative power of language and rhetoric that creates them.
The Brazilian author and performer Luanda Casella lives and works in Belgium. She graduated from the KASK School of Arts, where she explored the role of literature in developing critical thinking and exposing nonsense in the media. In her plays, Casella addresses the question of how stories and narratives shape people's identities.
"Killjoy Quiz" is accompanied by a program booklet including the text of the play, which the audience receives free of charge after the performance.
---
Production credits
Performance: Luanda Casella, Yolanda Mpelé, Lindah Nyirenda / Vocals: Maïmouna Rachels, Timia van der Linden, Helena Casella / Concept, direction: Luanda Casella / Composition: Pablo Casella / Dramaturgy: Sébastien Hendrickx / Coaching, choreography: Lucius Romeo-Fromm / Scenography: Felix Fasolt / Set (Creation set): NTGent, X-Treme Creations / Production management: Greet Prové / Artistic planning: Carl Vermeersch
Production: NTGent / Co-production: Workspacebrussels, De Grote Post / Funded by: THE FLEMISH GOVERNMENT AND THE BELGIAN TAX SHELTER