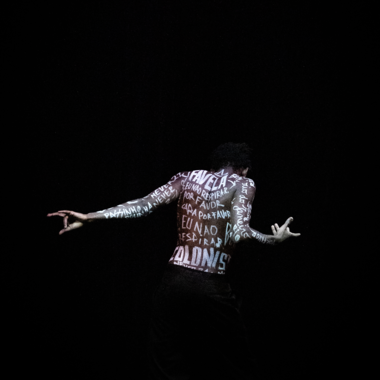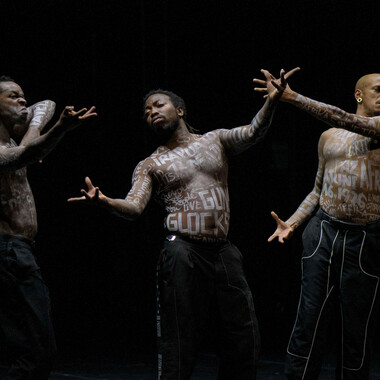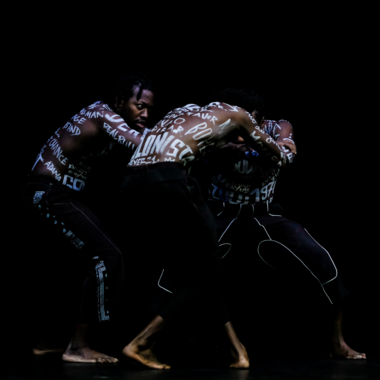 Inspired by the hashtag #Never21 used by the Black Lives Matter movement, this dance performance honours the countless victims of gun violence in New York, Rio de Janeiro and Johannesburg who have died before reaching the age of 21. Mixing styles from krumping to electro and popping to contemporary dance, three dancers use bold and expressive movements to bring the words of the victims and their families to life. On their bodies they wear statements by those left behind, telling us of lives that have been stolen and destroyed. They show us moments of death and desperation, the consequences of ineffective gun laws. Moments when innocent people find themselves in the path of wayward bullets: moments when life hangs by a thread. Never Twenty One … because their lives still matter.
Never Twenty One pays tribute to the missing and keeps memories of them fresh, accompanying their restless souls in their search for peace and forgiveness, and represents a sombre celebration of survival. Never Twenty One is part one of a trilogy investigating Black communities and African diaspora's condition in different times and locations. The stage adaptation of his short films Never Twenty One and Yasuke Kurosan is currently touring France and internationally. It will celebrate its German premiere at Festival Theaterformen.

Smail Kanouté is a French-Malian artist based in Paris. "Choreo-graphist" – as he calls himself – he is both graphic and silkscreen designer, film director, dancer, and choreographer. With Company Vivons! – founded in 2016 – he develops performances, choreographic pieces, short-movies, and fashion/design projects.
---
Production credits
Choreographer Smaïl Kanouté Dancers Aston Bonaparte, Smaïl Kanouté, Barima Osei Body painter Luca Fiore Artistic collaborator Moustapha Ziane Head of Production Cécile Pouységur Scenography, Light Design Olivier Brichet Sound Designer, Manager Paul Lajus Light Designer Bryan Jean-Baptiste Costume Design Rachel Boa & Ornella Maris Executive Production Compagnie Vivons! Photo (1), Photo (3) Mark Maborough Photo (2) Rodolfo Issac Garcia

Co-Production by Les Ateliers Médicis – Clichy sous Bois, Espace 1789 – Scène conventionnée danse - Saint Ouen, Les Rencontres Chorégraphiques Internationales de Seine Saint Denis, Théâtre de la Ville - Danse Élargie 2020 – Fondation d'entreprise Hermès, CentQuatre – Paris. With the support of Direction Régionale des Affaires Culturelles d'Ile de France, Ministère de la Culture, Région Ile de France, Département de la Seine-Saint-Denis, Ville de Paris, Adami, Spedidam, Caisse des Dépôts. Support for international touring Institut Français – Paris, SCAC – Ambassade de France au Brésil, Institut Français Amérique Latine, Caisse des Dépôts, Spedidam. With the support of the Institut français and the French Ministry of Culture.