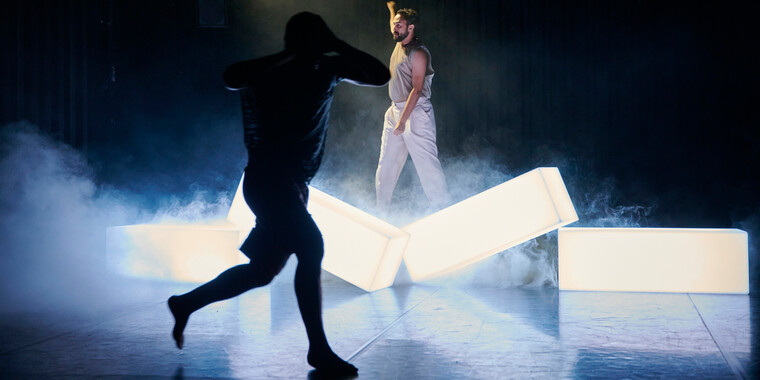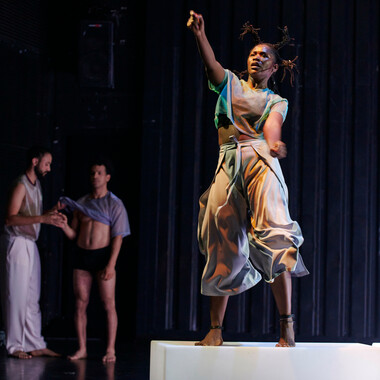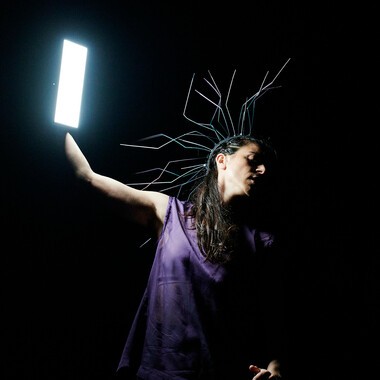 Do you have shattered dreams, feel isolated or cheated out of your youth? SAWTIK. Your Voice – Your silence will not protect you focuses on the experiences of young people during the two years of the pandemic. In their search for new ways of interacting with others, five dancers from Morocco, Mali, and Palestine move toward a more hopeful future based on a multitude of young voices and driven by the longing for connection and physical contact.
The JUNGE! Staatstheater is collaborating with the Festival Theaterformen for the first time to show this choreography for a young audience by the Moroccan choreographer Taoufiq Izeddiou. His sensuous choreographic language danced by young dancers from Morocco, Mali, and Palestine can be seen in Braunschweig for the first time. This new work is characterized by questions, themes, and challenges that are pressing for young people today and embarks on a time travel that begins with early childhood memories and leads to the dreams of the dancers today. The piece will be developed in Braunschweig in an international collaboration and will serve as a platform for the exchange of ideas, while exploring intimacy and politics beyond stereotypes.
Taoufiq Izeddiou founded the first contemporary dance company and the first institution for studying contemporary dance in Morocco. He is the artistic director of the "On Marche" Festival in Marrakech. He enjoys the clash of different cultures and is always on the lookout for new interpretations of dance as an art form in his works.

Note: Bibata Ibrahim Maiga and Fouad Nafili, dancers from SAWTIK. Your Voice - Your silence will not protect you will present the first dance pieces they created themselves – Esprit bavard and ⵣ YAZ[Z] (RHYMES) – in a double bill on Wed 06.07. and Thu 07.07., both at 7:30 pm at Staatstheater Kleines Haus, Aquarium.
---
Production credits
Choreography Taoufiq Izeddiou With Samaa Wakem, Fouad Nafili, Hassan Oumzili, Bibata Ibrahim Maiga, Abdelmounim Elallami Dramaturgy Nedjma Hadj Benchelabi Production Dramaturgy Sara Dirks (Staatstheater Braunschweig) Scenography, Costumes Loriana Casagrande Sound Design Mathieu Gaborit, Taoufiq Izeddiou Video Abdelmounim Elallami Translation Manon Lacoste Pedagogy Brigitte Uray Technical Direction Staatstheater Braunschweig Thomas Pasternak, Assistant Kira-Marie Klein Technical Direction, Kleines Haus Kim Winkler Stage Management David Els/Martina Meyer Head of Light Matthias Lebe (temp.) Light Rasmus Huxhagen/Harry Heutink/Matthias Lebe Head of Sound Thomas Bohnsack Sound Rainer Leue/Katharina Heine Head of Costumes Ernst Herlitzius Props Renate Lange, Kristen Sonnenberg, Daniela Klose Assistant Tanztheater Braunschweig, Rehearsal and Training Management Susan McDonald Production Staatstheater Braunschweig Co-production Festival Theaterformen, C'est Central Rehearsal photos Andreas Greiner-Napp
Production Staatstheater Braunschweig, Co-production Festival Theaterformen, Central | Le Théâtre, La Louvière, Artistic director of Staatstheater Braunschweig; tanz JUNG! Gregor Zöllig, Jörg Wesemüller, Assistenz Tanztheater Braunschweig Rehersal and training management Susan McDonald Photos Thomas M. Jauk

With the kind support of the Goethe-Institut Rabat. Supported by the NATIONALE PERFORMANCE NETZ Koproduktionsförderung Tanz, funded by the Federal Government Commissioner for Culture and the Media.