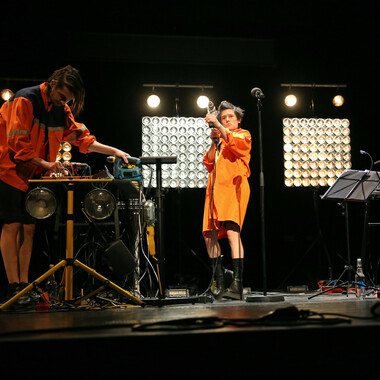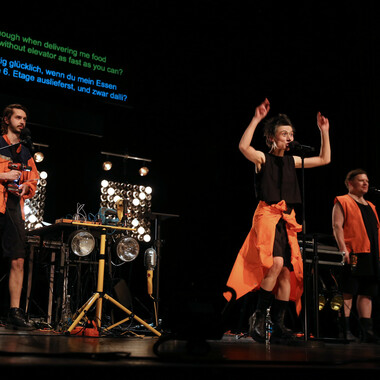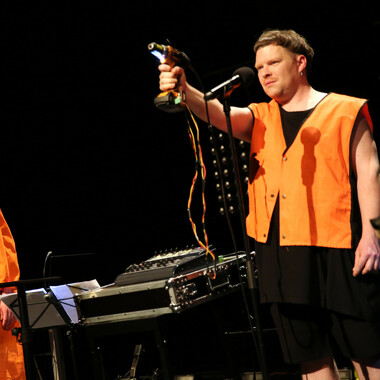 Sinfonie des Fortschritts
Nicoleta Esinencu, Artiom Zavadovsky, Doriana Talmazan, Kira Semionov, Nora Dorogan, Oana Cirpanu
Our society is committed to the dream of progress, to democratic, scientific, and to technological progress that will supposedly bring social justice, prosperity, a good life for all, a new world — perhaps even a new planet. But what for some means progress means exploitation and discrimination for others.

In Sinfonie des Fortschritts (Symphony of Progress), Nicoleta Esinencu and the collective teatru spălătorie wake us up from this dream to reveal the levels of violence hidden behind it. They demonstrate how the advancement of the capitalist system enables continually new forms of exploitation and colonization to emerge — as seen, for example, in how technological progress leads to control and punishment instead of protection and support, and how violence in the relations between the East and West is progressing, enhanced by the pandemic in which migrant workers are subject to the conditions of Western societies. Accompanied by the hammering sound of self-made tools and parts of machines repurposed as musical instruments that attract the necessary attention, Esinencu and her ensemble talk about people from Eastern Europe who are forced to work in the West under miserable conditions in order to survive. They do this by translating carefully researched facts into a poignant, fast-paced language.
Nicoleta Esinencu lives and works as a writer and director in Chișinău. Her much discussed texts and theater project focus on the social reality in the Republic of Moldova and the contradictions of the post-Soviet era connected with it, seen from the critical perceptive of the history of Europe as a whole. Her play FUCK YOU, Eu.ro.Pa! inspired a heated political debate in Moldova and Rumania in 2005 because of its criticism of Europe and made her internationally well-known. Since the venue of her independent initiative in Chișinău had to close, she and the performance collective teatru spălătorie have continued working without their own stage.
---
Production credits
By Nicoleta Esinencu, teatru-spălătorie Performer Artiom Zavadovsky, Doriana Talmazan, Kira Semionov Technical development Iulian Lungu, Neonil Roșca Technics Sergiu Iachimov Artistic consulting Aenne Quiñones Production manager Jana Penz Head of Technics HAU Annette Becker Sound HAU Janis Klinkhammer Light HAU Lea Schneidermann Translation from Moldavian Romanian into German Eva Ruth Wemme Translation from Moldavian Romanian into English Artiom Zavadovsky Translation from Russian into German Yvonne Griesel Übersetzung Russisch ins Englische Artiom Zavadovsky Photos Dorothea Tuch
Production HAU Hebbel am Ufer und teatru-spălătorie Co-Production FFT Düsseldorf, HELLERAU – Europäisches Zentrum der Künste Dresden, Rampe Stuttgart, Festival Theaterformen
Supported within the framework of the Alliance of International Production Houses by the Federal Government Commissioner for Culture and the Media, Supported by the NATIONALE PERFORMANCE NETZ Gastspielförderung Theater funded by the Federal Government Commissioner for Culture and the Media