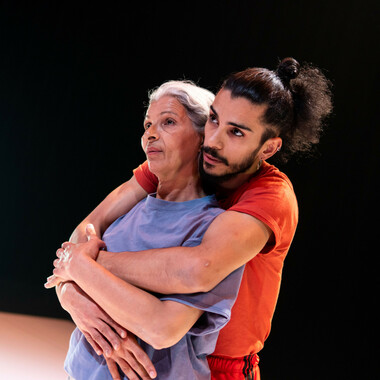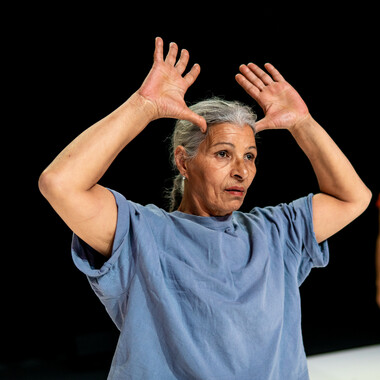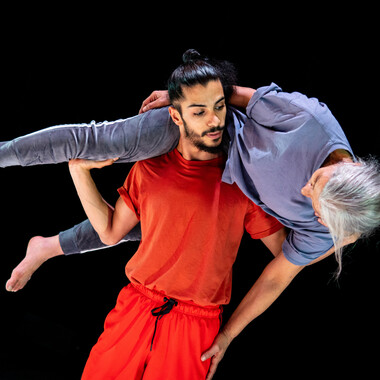 The Power (of) The Fragile
Two bodies meet: one of them appears to be younger, strong and vital, the other seems older and frail. Mimouna (Latifa) Khamessi always dreamed of becoming a dancer, but her son was the one who had the chance to dance professionally. When Mohamed Toukabri was granted Belgian citizenship in 2022, Mimouna Khamessi finally received a visa to visit him. Having been kept apart for a long time by Belgian immigration policy, mother and son are now reunited in a tender duet. Here gender and age become blurred, the weight of their bodies changes their direction and lines are crossed. Where does one body begin and the other end? Mohamed Toukabri and Mimouna Khamessi share with us an intimate and organic journey about the relationship between a mother and her son. They show us what it means to leave the family home, to be separated and then reunited. The piece touchingly evokes what it is like to carry and to be carried, to care for someone and to let them go. A densely-woven portrait that is both unexpected and affectionate. It turns the stage into a place where memories take on new meanings and a better future seems possible – a passionate performance for the right to travel wherever we want to.
Mohamed Toukabri was born in Tunis and started to dance at the age of 12, focusing on break dance. At the age of 16, he completed his contemporary dance training at the International Academy of Dance in Paris and studied at the Mediterannean Centre for Contemporary Dance in Tunis. In 2008, he began his studies at P.A.R.T.S - School for contemporary dance in Brussels. His first self-developed work The Upside Down Man has premiered in May 2018 at the festival Me, Myself & I in Hellerau, Dresden.
---
Production credits
Concept, Choreography Mohamed Toukabri Performance Mimouna (Latifa) Khamessi, Mohamed Toukabri Dramaturgy Diane Fourdrignier Stage Management, Set Design Lies Van Loock Sound Design, Artistic Consultant Annalena Fröhlich Costume Design Ellada Damianou Research, Development Eva Blaute Trainee Constant Vandercam Acknowledgements Estelle Baldé, Radouan Mriziga, Rim Toukabri, Bachir Toukabri, Sofiane Ouissi, Julia Reist, Maria-Carmela Mini, Synda Jebali, Yasmin Dammak, Elise Cnockaert, Liz Kinoshita Executive Production Caravan Production Photos Christian Tandberg

Co-Production by Needcompany, Vooruit, Beursschouwburg, and Dansens Hus Oslo. Residency Support by Cultuurcentrum De Factorij, Needcompany, Vooruit, and Charleroi Danse. With the support of the Flemish Government & the Flemish Community Commission (VGC) and Onda – Office national de diffusion artistique.