THIRST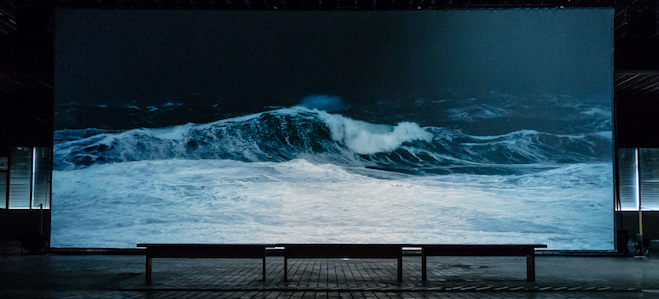 ---
Voldemārs Johansons . Riga . Latvia
---
Audiovisual documentation of a violent storm

What does it feel like: eye to eye with the untamed power of a storm in the middle of the Atlantic Ocean? Surrounded by blasting winds, steely blue masses of water and ceaselessly swelling waves? Thirst makes you feel the storm of the century near the Faroe Islands in your whole body and enables an encounter with the destructive power and hypnotic beauty of this force of nature.
Voldemārs Johansons' experimental installations and performances are light and sound compositions that take over entire spaces and combine art and science. His work has been shown at the Venice Biennale of Architecture, the Arts Electronica Centre Linz, BOZAR in Brussels, the Ruhrtriennale, STEIM in Amsterdam and the Unsound Festival in Kraków.

Online conversation The One Thing That Helped
With Voldemārs Johansons and Martine Dennewald
FRI 03.07. 07.30 PM

Direction . Production Voldemārs Johansons . New Theatre Institute of Latvia
---
Staatstheater Grosses Haus
---
02.07. 17:00 - 21:00 Uhr

---
03.07. - 05.07. 15:00 - 21:00 Uhr

---
07.07. - 09.07. 17:00 - 21:00 Uhr

---
10.07. - 12.07. 15:00 - 21:00 Uhr

---
Admission
8 Euro
Concessions
5 Euro
Duration
up to 1h
Language
No language
---
Buy tickets online