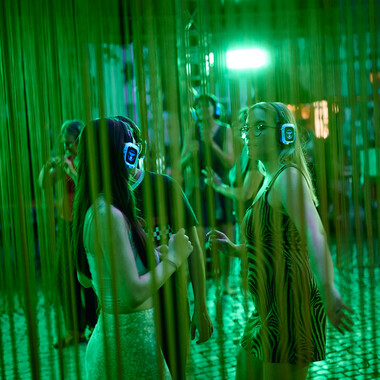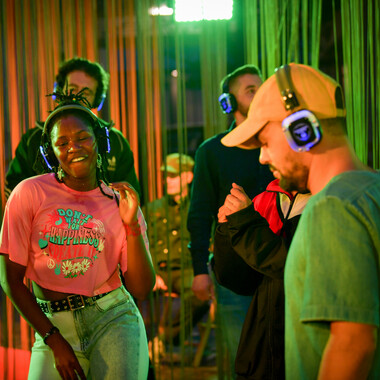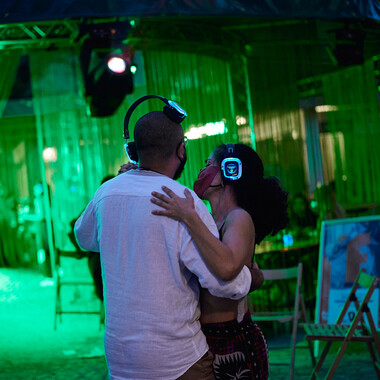 Silent Disco
Fuchsbau Festival, SNNTG Festival, Troi Lee and many more
On the opening evening of the festival and every Friday and Saturday we invite you to dance! The disused Prinzenstraße will then turn into the dancefloor for our silent discos, where the music comes not from loudspeakers but from headphones. Silently we move through the night – and look awesomely good while we're doing it! Deaf visitors to the party have the opportunity to borrow vibration belts – these allow bass notes to flow directly into the body in the form of vibrations, blurring boundaries so that everyone can dance to the beats of our DJs together.
The names of the other DJs and hosts who are performing at our Silent Discos will be published one by one.
Fri 23 June
Fuchsbau Festival

Sat 24 June
SNNTG Festival
Fri 30 June
Deaf Rave with Troi Lee
Troi Lee is a London-Based Deaf DJ, Performer, Events Organiser & Founder of Deaf Rave. Troi hosts raves and produces online streamed showcases in sign-songs, dance, comedy, VV (Visual Vernacular) and other visual performances made by and for Deaf communities worldwide.
---
Production credits
Photos Moritz Küstner, Andreas Greiner-Napp